We are Manufacturer, Supplier, Exporter of Ultrasonic Homogenizers, Probe Sonicators, Ultrasonic Processors, Ultrasonic Homognisation Machines and our setup is situated in Pune, Maharashtra, India. Ultrasonic Processor probe Sonicator is a tool specially design for Pharmaceutical chemical labs various research Institute colleges and Universities.
Ultrasonic Homognisation Machines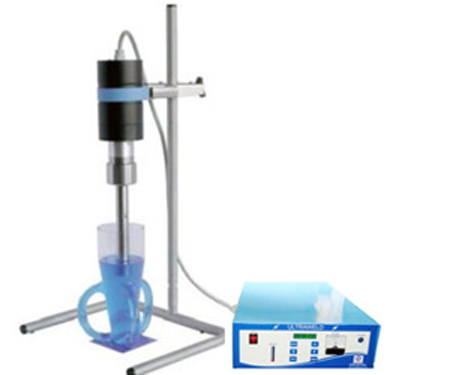 Ultrasonic Processors
Ultrasonic generator use to produce High Electrical Energy Operating at a frequency of 20 KHZ and Ultrasonic Power 150 watts S.S. velocity Horn fitted with PZT Crystals (Transducer Element). this velocity Horn assembly convert the electrical energy fed from the Ultrasonic generator to Mechanical Vibrations at the rate of applied electrical frequency. The amplitude of this Mechanical vibration are magnified by this Frequency Horn Used for The Processing Application
Features:
• Low transducer losses permit maximum cleaning action.
• Modular generator for easier modification / Servicing
• Rugged and easy to clean stainless steel Probe.
• Extensively protected electronics circuits for longer and safe operation.
• Frequency 20 KHz
• Wattage: 1000 watt.
• Sample Capacity : 1000ml-7000ml
• One Year Warranty

Principle of Ultrasonic Processor
High frequency vibration is produced by high frequency horn which is immersed into the liquid to bath processed. The vibration gives rise to millions of intense microscopic vacuum bubbles which form implodes at very high rate (Twenty thousand Times per second) this phenomenon is called as cavitations. This gives rise to intense local Pressure waves micro straining of liquid round the point of collapse. This turn produces High share gradients which is responsible for the below stated application.

Advantages:
• Homogenization, Micro Fined Emulsion.
• More stable compares to other processes
• Very flexible. It can easily be transferred from one batch to other without intermediately operation like emptying; cleaning and refilling Ultrasonic Processor can be transported to various locations to sample operation.
| | | | |
| --- | --- | --- | --- |
| Formulation | Tissue Homogenizers. | Stimulate Bacterial |  Homogenizer Processor |
| Pharma | Dissolve Powders | Deaglomerate | Ultrasonic Homogenizer |
| R & D Lab | Probe Sonicator | Activity | Emulsify Cosmetics |
| Sonication Cell |  Emulsify Liposomes | Ultra Sonicator | Extract DNA / RNA |
| De-gas Liquids | Sonication of Bacteria | Disperse Solids | Prepare Emulsions |
| Reactions | Sonication Cell Lysis | Extract Proteins | Accelerate Chemical |
| Reactions | Accelerate Enzymatic | Dissolve Tablets | Immiscible Liquids |